Friday Morning Trading Ideas - December 6, 2019
Thursday's Key Earnings
American Outdoor (NASDAQ:$AOBC) +4.4% AH on strong guidance.
Cloudera (NYSE:$CLDR) +7.7% AH beating expectations.
CrowdStrike (NASDAQ:$CRWD) +4.4% AH posting its best-ever quarter.
DocuSign (NASDAQ:$DOCU) +9.9% AH on beats, upside Q4 view.
Dollar General (NYSE:$DG) +0.1% after an earnings topper.
Kroger (NYSE:$KR) -3% as analysts questioned its execution.
TD Bank (NYSE:$TD) -3.4% amid a rise in loan-loss provisions.
Tiffany (NYSE:$TIF) -0.1% missing estimates in Q3.
Ulta Beauty (NASDAQ:$ULTA) +9.3% AH following a comp sales beat.
Zoom Video (NASDAQ:$ZM) -8.6% AH on slowing revenue growth.
...
Notes below via user dcv.
Futures pointing up, but not enough for shades, so it appears. Crude checking in as "flat" this morning. Gold down a touch, much to the dismay of Midas. Bitcoin down and continues to hover around the $7,000 What Now? mark. It does not look as though President Xi will be able to boost Bitcoin back up to the All-Important $10,000 mark any time soon.
Boeing news brought to you by Boeing, of course. Thanks for the daily updates on Boeing. $BA
$BA
, Boeing Company (The) / H1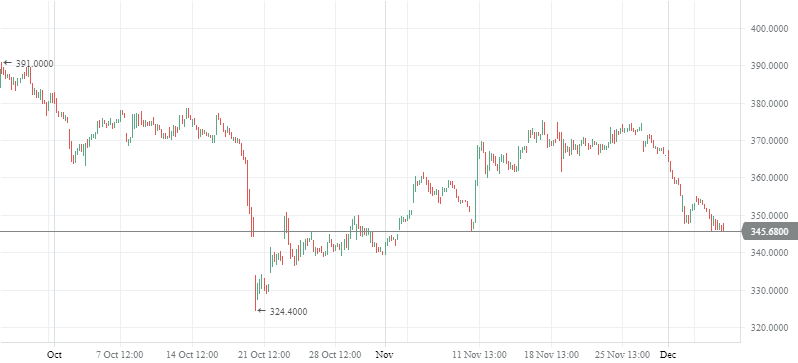 Saudi Arabia has just pulled off the biggest initial public offering in history, raising $25.6 billion by selling shares in its giant state-owned oil monopoly. Saudi Aramco sold 3 billion shares at 32 riyals ($8.53) each in its IPO, the company said Thursday. That means the deal raised more than China's Alibaba in its 2014 public debut. The IPO values Aramco at roughly $1.7 trillion, making it the most valuable publicly traded company in the world ahead of Apple, which is worth about $1.15 trillion. It appears that big oil is far from dead. Right?
Elon Musk remains excommunicado.
Tesla's Model 3 $TSLA has been included on a list of vehicles eligible for subsidies published by the Ministry of Industry and Information Technology in China. Good news for $TSLA share holders. Nice way to start the day and ends a week filled with positive Tesla news.
Model Y is ahead of schedule. Model X wins a European safety award. $TSLA price target is moved to $500. Huge week of good news. Nothing on the CEO being in court the last few days over his Twitter comments, however. Interesting. Not a mention of the court proceedings on WSB this week. Nothing.
More than 110 Northern California city and county officials are now proposing to turn utility giant PG&E into a customer-owned cooperative. I guess this is what happens when Berkshire Hathaway shows zero interest in buying PG&E. It was worth a shot, I guess.
Thinly traded nano cap Cassava Sciences is up 41% premarket on increased volume in reaction to new data from a Phase 2a clinical trial evaluating lead drug PTI-125 in patients with mild-to-moderate Alzheimer's disease (AD). Having lost my step-mother to Alzheimer's, I am cheering for PTI-125 to be a success. Devastating disease.
5G doesn't pose new cellphone radiation threats, according to the FCC, which spent six years reviewing the issue and receiving public feedback. Good to know the FCC is on the case.
Novartis detailed its development efforts. 25+ potential blockbusters in development, 16 advanced platform therapies and 160+ projects in the clinic (500+ clinical trials). 80+ regulatory submissions expected 2020 - 2022. Huge news! Somebody should tell Mr. Market that this is really big. Shares up a fraction premarket. What? Up a fraction? What details were missing to move the needle? Wow.
Amazon says it's "off to a record-breaking start to the holiday season," but some customer delivery times are paying the price. The tech giant acknowledged on Thursday that some customers' orders are experiencing shipping delays as the company battles high demand and winter storms. Amazon will figure it out. I wonder if $UPS and FedEx $FDX are experiencing the same delays?