Tuesday Morning Market Notes for September 17, 2019
What will JPow do today? Hints of a 25bp cut (snore) are likely.
$FSLY is no longer the summer poster child. Sell.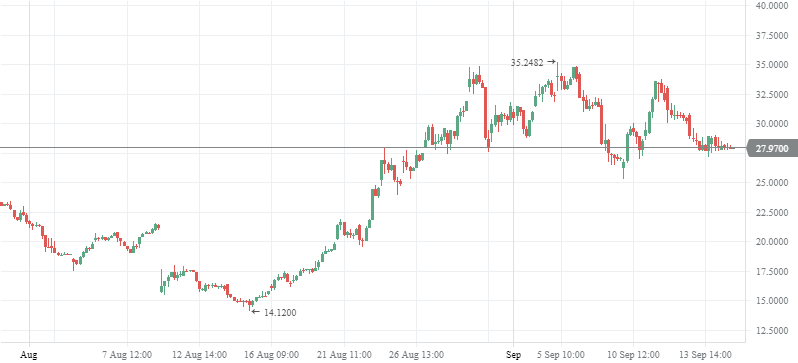 Might you buy the dip in $SHOP Shopify? Stock issuance is timed well for the company and will add cash to its balance sheet.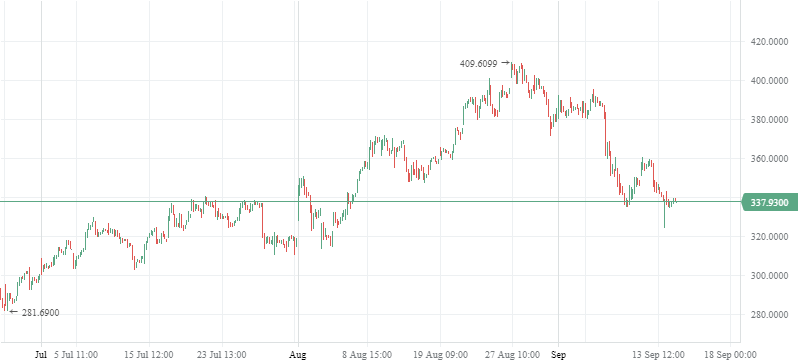 CBD isn't going to save Shopify. Besides, the cannabis bubble ended before the summer.
$ACB
, Aurora Cannabis Inc. / H1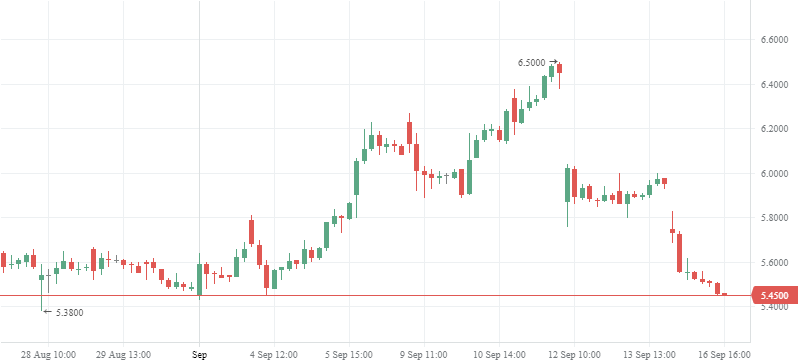 ...except for $CGC which bounce back slightly.
$CGC
, Canopy Growth Corporation / H1
Oil prices dipped slightly. Chances are high it will just dip again and erase all them easy gains.
...
Notes via user dcv:
Futures down slightly. Shades are not needed. Gold and Crude down too. Bitcoin also down and nearing the all-important $10,000 mark.

Shopify down 5.1% premarket on pricing its previously announced public offering of 1.9M Class A subordinate voting shares at $317.50 per share, gross proceeds expected to be $603.25M.

Netflix has won global streaming rights to TV hit Seinfeld starting in 2021.

Guggenheim lowers Home Depot to a Neutral rating after having it set at Buy. Got it.

Effective Jan. 6, FedEx Express shipping rates will go up by an average 4.9% for U.S. domestic, U.S. export, and U.S. import services. There will be no additional residential surcharges for this year's holiday season.

There are new developments in the war on vaping, with California Governor Gavin Newsom becoming the third state to issue an executive order to "reduce youth vaping consumption." While an outright ban on flavored products fell short during a legislative session, state regulators may find ways to ban illegal and counterfeit vaping products. Hold on. If a product is already considered "illegal" how to you ban it? Those tricky legislatures will figure it out.

In a court deposition released on Monday, Tesla and SpaceX CEO Elon Musk says he once worried that British cave diver Vernon Unsworth might be "another Jeffrey Epstein." The deposition came out as Musk and his lawyers asked a judge to dismiss the defamation case Unsworth brought against Musk for previous comments calling him a "pedo guy." After Unsworth criticized the CEO, his family office run by President Jared Birchall, hired a private investigator to learn everything they could about the cave rescuer and his family. Yikes. Guess you shouldn't criticize Mr. Musk. (Information taken from Google Finance- don't want to be called a "hater" when I am passing along Tesla/Elon Musk updates)
...
What are you buying or selling today?