Applied Optoelectronics Plunges 20%
Sometimes value stocks become value traps when finding the next Advanced Micro Devices (AMD), Alibaba (BABA), or the lucky timing in biotech for Kitov Pharma (KTOV) and MannKind (MNKD).
On Monday's edition of the DIYVI (Do-it Yourself Value Investor) the week ahead, a Seeking Alpha member in Applied Optoelectronics (AAOI) joined the service upon hearing AAOI was added to the focus list. This makes AAOI's earnings warning today very disappointing.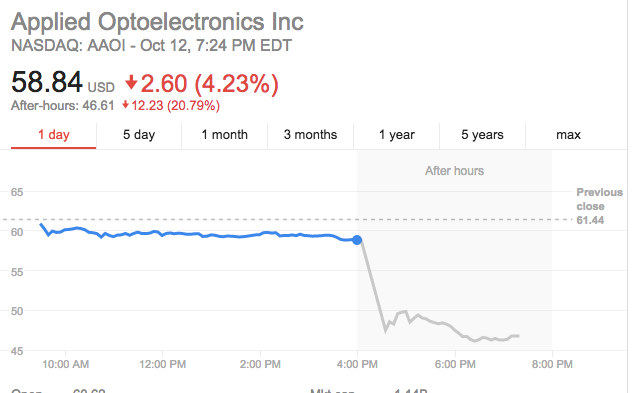 It also implies the complimentary analysis from SimplyWallSt and shared with DIY members keeps us Value investors disciplined. The site determined the fair value for AAOI stock was far-below the market price. With AAOI falling 20% right now in after-hours trade, shareholders must re-align the fair value in light of the lowered forecast.
Other volatile technology stocks discussed frequently include Himax Technologies (HIMX) and that SP fall below $10/share, AMD ahead of the ER, and Micron's (MU) share dilution (my PT was $35 when MU closed above $40).
To join DIYVI, click here. Next step: post your thoughts on AAOI, below. Sign in via Stocktwits.