Bitcoin Will Top $28,000, Two Techs Slump (AMD, HIMX), and Valeant PT $19 Met
Summary
Market fear is picking up: speculate sparingly.
Bitcoin could crash. What's your guess?
Market fear is picking up: speculate sparingly.
Announcement: This is an abbreviated version of The Week Ahead where DIY members chat and get trading ideas for the week. Last week, members anticipated the pricing action for Himax (HIMX) and AMD. I am pleased the Valeant (VRX) reached my $19 price target in just five days. The stock did not get there because of my article: its re-fi (extending debt maturity) lowered the bankruptcy risk profile.
Follower Recommendation of the Week: Follow the author of Stocks to Watch Next Week. The articles are timely and free. It differs from the DIY account in that it does not give readers a prescient trading plan for the week.
Bitcoin Price Target: $28,000
Bitcoin. Everyone has heard of it by now. Everyone predicts a crash too without knowing exactly when or where. Remember that Bitcoin's price earns headlines and attention. In practice, Bitcoin's liquidity, an eventual rush to the exit, and government intervention may normalize downward the currency's price. There are transaction costs and commissions to withdraw the cryptocurrency.
At what price do you think Bitcoin will peak?
My guess is $28,000.
Bitcoin looks and acts like a tulip mania, which ended on February, 1637. Post your guess on Bitcoin's peak value in the comments below.
Himax Slumped
Citron
https://twitter.com/chrispycrunch
(10 hours ago, two re-tweets down) that Himax Technologies (HIMX) management is a fraud.
The >>> DIY Member <<< already anticipated the trading manipulation in HIMX stock over a year ago.
Citron's bearish call is nothing new. From Sept to Nov., short volume surged from 17 million to 30 million shares.
$HIMX
, Himax Technologies, Inc. / H1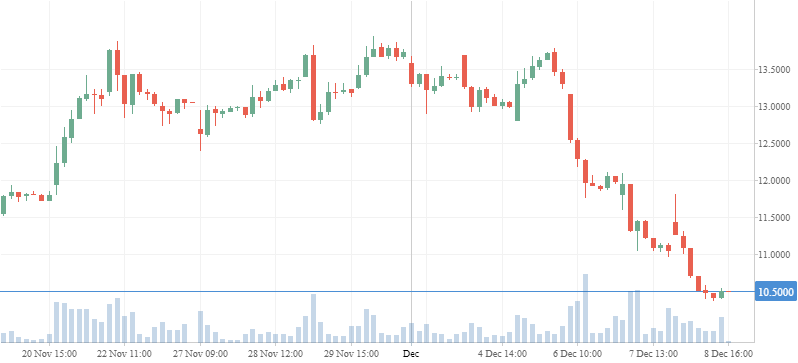 >>> View the chat history $HIMX on the DIY Value Investing Marketplace.
>>> Advanced Micro Devices $AMD closed at exactly $10.00 one of the days last week. Once again, here is the game plan on AMD for 2018.
Poll Results
Vote here: Buy Resource Stocks BUT Avoid These: $CHK, $CLF $RIO $VALE $RIG $FCX
Results so far: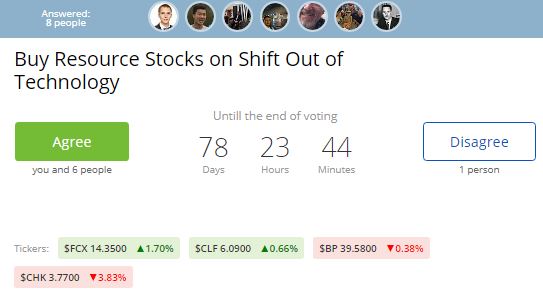 Source: whotrades.com

Takeaway
Markets are getting increasingly fearful. Look for stocks that rose on speculation to correct badly. Matheson Analytics Inc. $HMNY is an example. Vote here if you think HMNY will keep falling.
$HMNY
, HELIOS & MATHESON ANALYTICS INC / H1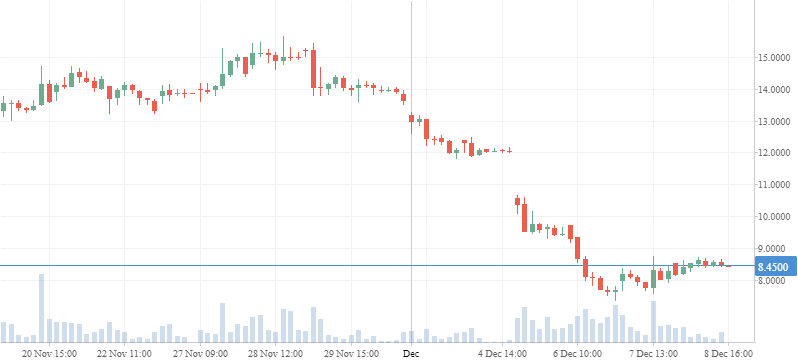 Be wary of value traps and always question the resiliency of the business model. That's in the DIY Value Investing handbook. If you insist on investing in riskier plays, avoid the biotech sector for now and buy turnaround companies like Zynga $ZNGA and Glu Mobile $GLUU.
I covered both companies late last year and early this year. My bullishness depended on multiple product refreshes that are now paying off. With Zynga, it's with the Dawn of Titans. And with Glu Mobile, it's Design Homes and the upcoming Taylor Swift game.