​ Happy Tax Reform Day
The house passed the tax reform. Happy day for stocks.

What's next?
From nrps400:
Next stop is the Senate, where the vote margins are substantially slimmer.
If the Senate approves a bill it goes to reconciliation, where any differences between the two bills must be resolved by a House-Senate committee to produce a uniform bill.
That's how, for example, the ACA mandate repeal could end up in the final bill even though it is not in the House. Then that compromise bill goes back to each chamber for a majority vote.
The final compromise bill still has to meet the Byrd Rule in the Senate, and the vote margin is razor thin, so the Senate has a lot more leverage in reconciliation negotiations. Essentially, the final bill is likely to look a lot like the Senate bill (assuming one passes).
Some in the House have balked at the current Senate proposal, but I suspect when the compromise bill is actually on the table, Ryan will be able to whip the votes. 13 Republicans voted "no" on the House bill, and they can "afford" to lose about 10 more and still pass a compromise.
This was a small step, but the most important step in the process is whether the Senate can actually pass a bill.
GE did not celebrate. The stock continued its drop today.
WAL-MART - WMT - jumped over 10% to nearly $99 after reporting an incredible quarter.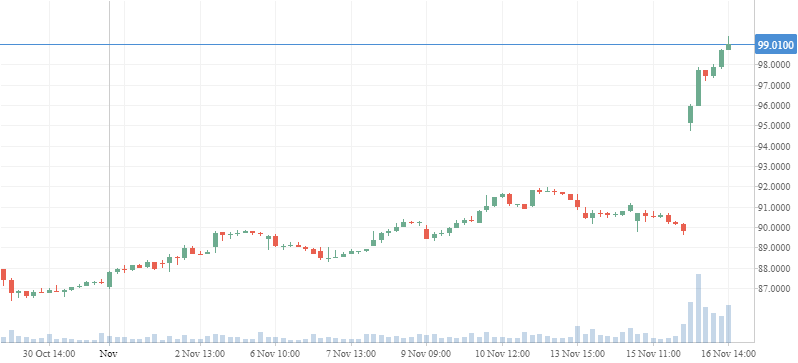 As predicted, VIX is imploding, down ~10%. No volatility when markets rally higher.
AMD, which lost steam as momentum faded, rose a modest 1.8%. $12 next?
in biotech, Valeant - VRX - and Teva did not move by much. But Synergy - SGYP - regained the $2/share level.
Himax - HIMX - showed lots of life as it rallied 8.7 percent intraday to $11.80.