10 Value Stocks In This Uncertain Trump Market
Uncertainty in the Markets
Prior to President-elect Donald Trump's inauguration Friday, the Dow has lost value five trading days in a row. Many analysts attribute the recent pull back to the fact that there is still so much uncertainty surrounding a Trump administration. But isn't this the same uncertainty that helped US equities rally to record highs after Trump's victory back in November?
The one thing that does appear to be certain: the market doesn't have enough information yet to make rational decisions. And don't forget that the best investment opportunities typically present themselves when the broader market is moving irrationally.
So where should investors be looking?
10 Value Stocks Reporting This Week
Value stocks are always a good bet since they have consistently outperformed other investment strategies over the years. Whether it takes three months or three years, stocks always track their fundamentals in the long run.
And now with earnings season in full swing, investors may want to take a closer look at the following companies slated to report this week (1/23 - 1/27). All ten stocks mentioned below do not appear to be tracking their underlying fundamentals.
Synaptics Incorporated (NasdaqGS:SYNA) is expected to report earnings on Thursday after the market closes and five valuation models conclude that shares are over 40% undervalued. This compares to Wall Street's consensus upside of over 20% derived from 12 analysts. Shares are also trading near their 52-week low.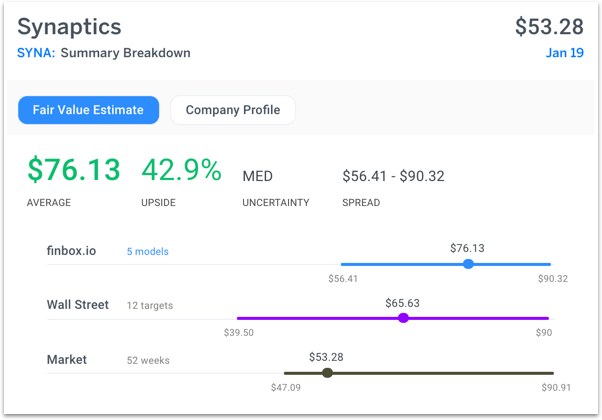 Continue reading 10 Value Stocks.