Let's start with a little history, for Thursday, December 5, 2018
On this day in 1884, in Washington, D.C., workers place a nine-inch aluminum pyramid atop a tower of white marble, completing the construction of an impressive monument to the city's namesake and the nation's first president, George Washington. As early as 1783, the infant U.S. Congress decided that a statue of George Washington, the great Revolutionary War general, should be placed near the site of the new Congressional building, wherever it might be. After then-President Washington asked him to lay out a new federal capital on the Potomac River in 1791, architect Pierre L'Enfant left a place for the statue at the western end of the sweeping National Mall (near the monument's present location).

Also-
On this day in 1907, in West Virginia's Marion County, an explosion in a network of mines owned by the Fairmont Coal Company in Monongah kills 361 coal miners. It was the worst mining disaster in American history.
And-
On this day in 1933, a federal judge rules that Ulysses by James Joyce is not obscene. The book had been banned immediately in both the United States and England when it came out in 1922. Three years earlier, its serialization in an American review had been cut short by the U.S. Post Office for the same reason. Fortunately, one of James' supporters, Sylvia Beach, owner of the bookstore Shakespeare and Co. in Paris, published the novel herself in 1922. In 1914, Joyce published The Dubliners and his 1915 novel, Portrait of the Artist as a Young Man, brought him fame and the patronage of several wealthy people, including Edith Rockefeller. Ulysses, with its radical stream-of-consciousness narrative, deeply influenced the development of the modern novel. Joyce's final novel, Finnegans Wake, was published in 1939, and Joyce died in 1941.

So the UK "cherry picked" Facebook documents. Sure they did.

Apple in the news twice and not for positive reasons. Keeping an eye on this and looking to add shares.

Tesla in the news today and I am not sure why. Gigafactory in China in 2019. Got it. Let's hope this proposed factory is a touch more successful than the Riverbend factory in Buffalo, NY. This "news" isn't really news, is it?

This is the day The Lord has made. Let us rejoice and be glad in it.

Huawei CFO Meng Wanzhou is arrested and this is the reason stocks, across the board, are dropping? Really? I thought it was because Bitcoin was down again and keeps dropping away from the magic $4,000 level. Guess I missed that news when I was reading about Tesla's gigafactory.

Where is Jon Corzine and will MF Global continue to look for properties in China to expand their operations?

Where is Marissa Mayer and is it safe to use Yahoo Mail once again?

Have a great day everyone. Stay safe, sage, and sane out there.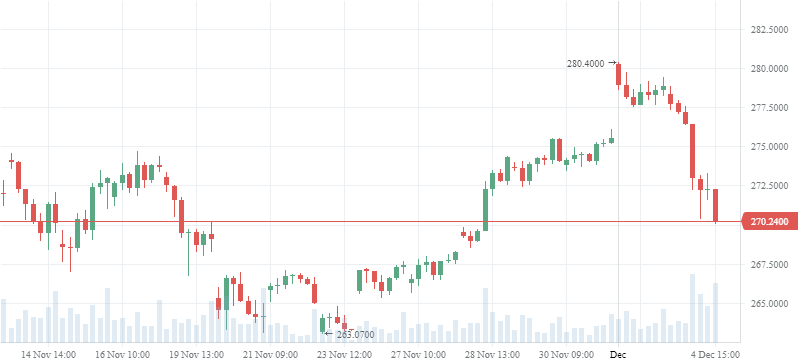 Excelsior!

Make your day a great one.
via @deercreekvols
---
Brace yourself for sharp selling today. The executive arrested from Huawei is the daughter of a prominent PRC official.