Tonight's Moves for Tomorrow, Thursday, October 11 2018
$AMD's battle in the $30 - 33 range ended. The stock fell 8.22% and closed at $25 even.
$AMD
, Advanced Micro Devices, Inc. / H1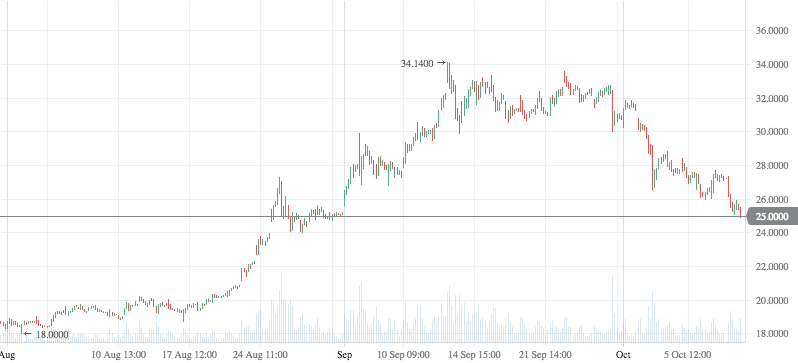 Yes, I reason $INTC is a buy here but $AMD still wins in the end. Superior CPU technology
Volatility $VXX is back. Will this hold or is it another head fake?
$GE's rally faded somewhat, down 2%.
$BABA. Down and out. China stocks are in a world of hurt. So are you buying the dip or waiting on $JD, $BIDU, $MOMO, $IQ?
$SNAP is done. And it is taking $TWTR down with it.
$FB's out too. No value with $FB as legal and privacy protection costs rise.
Payment processing stocks are out of favor. That was fast.
$SQ fell 10%.
Firesale with $MU, $AMAT, and other chip stocks. Buy.
What hedging will you do to protect against the downside?