** Tonight's Action List for Tomorrow, Tuesday October 17 2017
AMD reports next week:
$AMD
, Advanced Micro Devices, Inc. / H1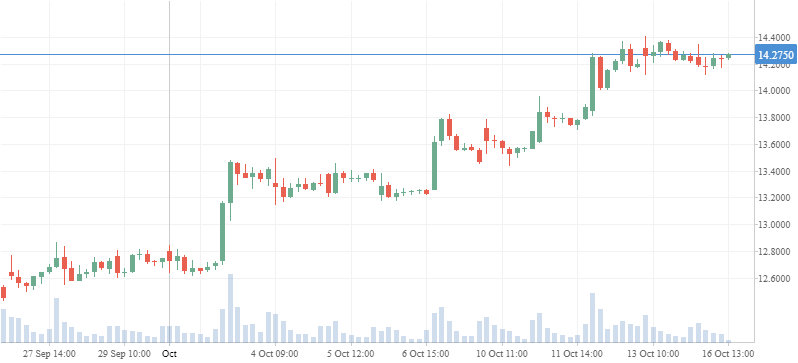 Telsa (TSLA) is defying gravity. The company missed Model 3 output by a wide margin and yet the stock trades as though it will surpass Ford - F - and GM. That won't happen. TSLA stock should fall.

Himax Technologies - HIMX - is sensitive to analysts that add no insight in the firm's prospects. HIMX is hovering at $9.xx and could fall further this week.
Qualcomm - QCOM - is set on getting the owed royalties from Apple - AAPL. QCOM stock is on the uptrend.
Rite Aid - RAD - surged over 5% on the day. Investors are betting a sub-$2 stock price is too low.
AMD is not reporting this week. No news. But AMD may hold the pre-earnings rally of $11-$12 to $14+
Freeport - FCX - is up as copper prices reach three-year highs. Hold
Teva slipped again. $20 is far away. $11 next? Deep value in the portfolio of generic drugs and new products.
XXII is bouncing back. Beware. This may not hold.
finv
Veritone - VERI - is a typical pump and dump. Down over 11% today. Avoid.
In resources, CLF is down ahead of the ER. But Transocean - RIG - is a favorite and in the midst of a rebound.
The Sprint - S - TMobile - TMUS deal is in the rumor mill again. Too many concessions ahead but markets know that. S is at new weekly lows.
NVDA is the winner over AMD, INTC but all could go up. Only NVDA will get to $200 first.
$NVDA
, NVIDIA Corporation / H1