Thursday Morning Trading for November 21, 2019 as Market Breaks
Some doubts of US/China trading deal (what else is new? This is over a year old!) sent stocks lower yesterday.
Get ready to sell it all ahead of the US Thanksgiving holiday next week.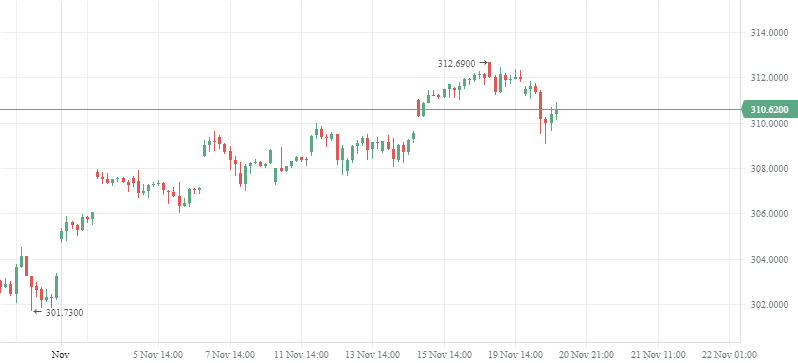 via user dcv:
Futures are cloudy enough that shades are not needed. Gold and Crude down a touch. Bitcoin down and dips below the ,000 Mendoza Line. Where is President Xi when Bitcoin needs him?

After being critical of Tesla for a long time and being asked in comments why I "pick" on Tesla and Elon Musk, I have decided to stop commenting on Tesla news and CEO Elon Musk. I will simply say:

Elon Musk is excommunicado. All benefits associated with The Continental are closed to him.

I am very pleased with Ford's EV Mustang and the decision to bring many EVs and Hybrids to consumers. Competition is a good thing and Ford is shaking things up. Long $F. Not sure that there is a huge market for EV pickup trucks, but the F-150 EV should be the leader just as it is in the ICE market. Just my opinions, of course. Other EV companies might try to bring pickups to market, but that will be for you to keep track of. My apologies.

Reports earlier this week suggested President Trump would delay a decision on vaping restrictions, though the White House just confirmed his meeting with the industry for tomorrow. Politics and investing? Tough to keep these two apart in some cases, isn't it?

Apple is opening a new facility in Austin—a 3 million-square-foot office complex where Apple says its employees will perform a variety of functions, including "engineering, R&D, operations, finance, sales and customer support." In remarks at the Mac Pro plant Wednesday, Cook touted it as a billion investment that will create Apple's second-biggest site after Apple's home base in Cupertino.

Triumph Group, the largest supplier to Boeing's 747-8 program, is beginning to clear out its storied Southern California factory with an online auction of manufacturing gear. This could signal the end of Boeing's 747. This daily Boeing update is brought to you by Boeing.

Mexico's government has helped 10 Mexican citizens file lawsuits against Walmart over an August shooting at a store in El Paso, Texas, where 83% of the population is Latino. Interesting.

Charles Schwab is in talks to buy TD Ameritrade, according to CNBC sources, while Fox Business separately reported Schwab would pay B for the company. Looks like my TD Ameritrade account will become a Schwab account at some point.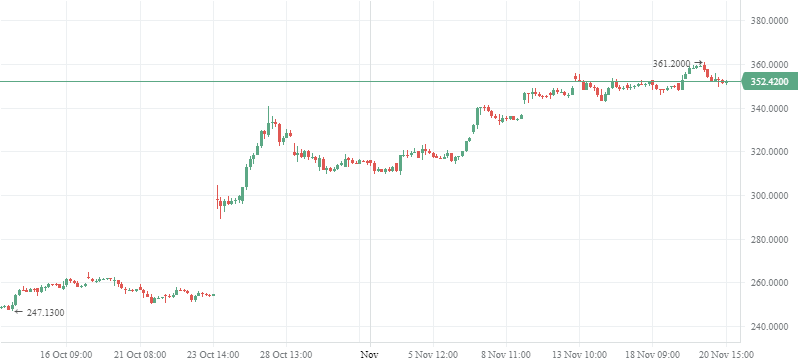 comment via another user:
Dips like this being bought up violently is a typical sign of a market where participants are under-invested and feel they "missed the boat". Yesterday when I said I'm shorting SPX (on the back of change in Trump's rhetoric about china - he threatened them on Tuesday with new tariffs) I went long 0DTE puts and closed when we went to 13DMA (3096). I wouldn't feel comfortable holding weekly puts today.
This bounce makes me think that it's dangerous to bet on continuation of a bearish move.
Also, the HK bill doesn't matter (because Trump wants to keep it quiet to get the deal, and China wants to keep it quiet - Trump will just keep it on his desk for a while).
...
Daily analyst ratings changes - source Dow Jones newswire
Ashland Global Holdings Cut to Market Perform From Outperform by BMO Capital
Berry Petroleum Cut to Hold From Buy by Tudor Pickering
Berry Petroleum Cut to Market Perform From Outperform by BMO Capital
Berry Petroleum Cut to Market Perform From Outperform by Wells Fargo
Berry Petroleum Cut to Underweight From Sector Weight by KeyBanc
Brixmor Property Group Cut to In-Line From Outperform by Evercore ISI Group
Castlight Health Cut to Hold From Buy by Canaccord Genuity
Cboe Global Markets Cut to Neutral From Buy by Goldman Sachs
Evergy Cut to Underperform From Neutral by Bank of America
Kohl's Cut to Neutral From Buy by Goldman Sachs
Medicines Co Cut to In-Line From Outperform by Evercore ISI Group
Nutanix Raised to Positive From Mixed by OTR Global
Paycom Software Raised to Outperform From Sector Perform by RBC Capital
RPC Inc Cut to Sell From Neutral by Citi
Schlumberger Raised to Buy From Sell by Tudor Pickering
Sherwin-Williams Cut to Hold From Buy by Edward Jones
SunTrust Cut to Neutral From Buy by Janney Capital
Tradeweb Markets Raised to Buy From Neutral by Goldman Sachs
Woodward Inc Cut to Market Perform From Outperform by Barrington Research