Short Play Before Earnings: Lincoln Electric $LECO
Why Lincoln Electric's Stock May See A 20% Correction Soon
Lincoln Electric (NasdaqGS:LECO) is expected to report earnings on Tuesday, April 18th before the market opens. The stock's valuation is becoming stretched as shares have appreciated over 50% within the last year and currently trade near an all-time high.
Finbox.io fair value data implies that the stock is approximately 25% overvalued. The estimate is calculated by applying Wall Street projections to eight separate valuation analyses as shown below. This compares to Wall Street's consensus price target of $79.50 implying nearly 10% downside.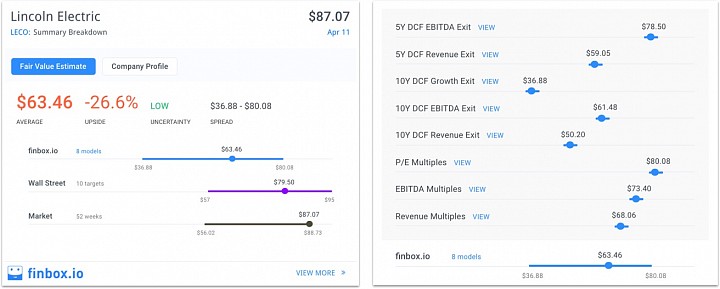 The manufacturer and reseller of welding and cutting products has beat its earnings (EPS) estimates three out of the last four quarters. This positive trend suggests that the stock should be trading near its high. However, this is a misleading statement when analyzing the company's true operating performance.
Lincoln Electric's revenue and EBITDA has generally declined over the last twelve quarters as shown in the chart below. In Q4'14, the company generated $122 million of EBITDA on $684 million of revenue. This is well above its Q4'16 EBITDA of $100 million on $564 million of revenue.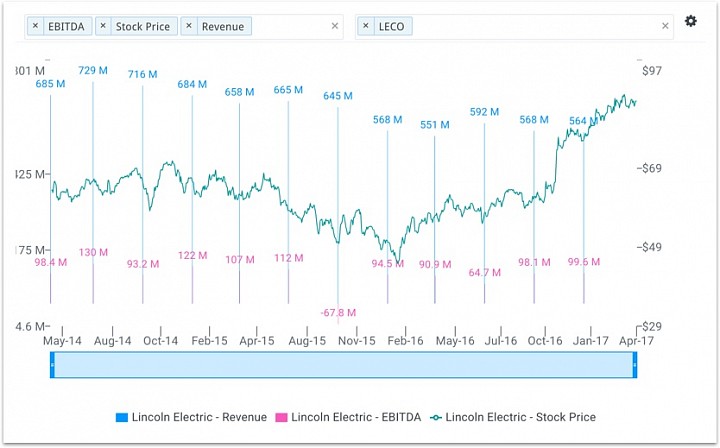 While financial performance has deteriorated, the stock has traded higher. Is it because Lincoln Electric is expected to outperform going forward?