Thursday Trades for February 13, 2020
Futures will not require shades today. Crude down a touch. Gold up fractionally and King Midas rejoices. Bitcoin down closer to the All-Important $10,000 mark. Interesting start to the day.
Are they pumping the brakes on the Sprint/T-Mobile deal already? Should we be surprised?

Boeing is back at the breakfast table, right where they belong! Boeing news is brought to you by Boeing, of course.

Elon Musk is excommunicado. 🔥🔥🔥

Tesla -1.6% after-hours on news it is recalling 15,000 Model X SUVs in North America because of a potential loss of power steering assist that could make steering harder and increase the risk of a crash. Seems the use of aluminum bolts in the steering column need to be replaced. Another day, another Tesla story, or ten.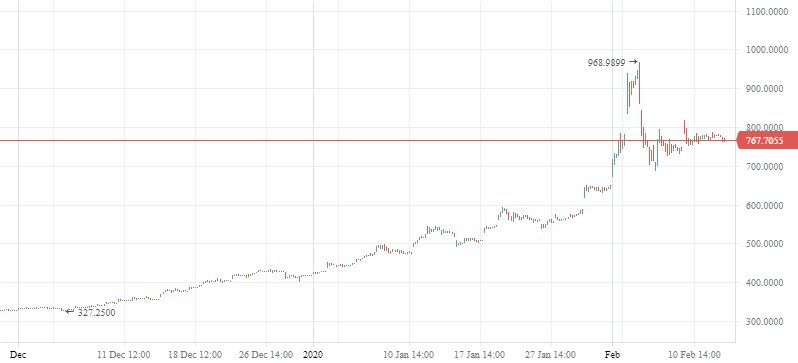 Nothing on Shopify? $SHOP is not an invited guest at the breakfast table, so it seems. Wait a second. There is a link at the bottom of the menu for news on Shopify. Thank you!

$TEVA up over 9% premarket. Nice way to start the day for owners, of which I am one.

Nio will delay paying salaries for January by six days due to "difficulties" arising out of the coronavirus outbreak in China. Ouch. As an owner of $NIO, I am not liking this news. Hope things get straightened out soon.

Senate Banking panel, more red ink in Washington. Got it. Political comments should be on the provided Politics Board. Roger that. Tough to keep investing and politics apart most days. Guess it gives the comments review team something to do each day.

$CHL has not been overly impacted by the coronavirus. Cell service is needed.

Waiting for the old supply chain impact on $AAPL. It has to happen at some point.

notes via user dcv.
...
Trades:
China changed the way it detects corvid19 infections. This resulted in a massive surge in count. Watch out for
Oil may sink again as markets head south. Buy up $XOM.
Microsoft $MSFT will lose a point or two. Hold.
Himax $HIMX forecast a small profit next quarter. I was wrong that the company was busted. Buy buy buy again.
$HIMX
, Himax Technologies, Inc. / H1