Mid-Week Trades for January 15, 2020
It will soon become apparent that this phoney "phase 1" trade deal is a joke, with China making token concessions on things they were already in the process of changing (e.g. IP laws) in exchange for buying things they need and were buying already from the US before anyway. via user s.theta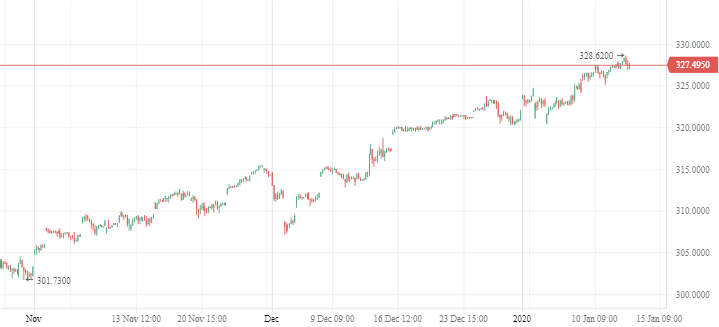 Futures looking cloudy, at best, this morning. Crude down slightly. Gold up fractionally. King Midas is smiling today. Bitcoin up 3% for no reason. Another typical start of the day for Bitcoin. It remains above the $8,000 Remain Calm! mark.

Boeing news this morning is brought to you by Boeing, of course. There has to be some other stock to give daily updates on, right? Big market out there and Boeing has been in the news far too long, IMO.

Delta in the news for an "earnings topper." Nothing on the big fuel dump in LA? Seems that a Delta flight dumped fuel as it was heading back for an emergency landing. The fuel landed on an elementary school playground during recess and several other schools. The FAA said that the pilots "may not have followed" fuel dumping rules. May not have followed? It appears that, in an emergency, the rules of dumping fuel on an elementary school during recess say it is OK to do so. Wow.

Amazon lifting the ban on FedEx Ground. Not sure what is going on with FedEx's ground network. Twice over the Holidays, we received notification from FedEx that our Amazon orders could not be delivered on the date they said they would be delivered because of poor weather. Neither delivery day had poor weather as the packages were only a few hours away. If FedEx was too busy, that is one thing. No reason to blame the weather for their inability to deliver on time. Long $FDX and hoping that this was a one-off, or two-off, as the cases were.

Germany's GDP growth expanded at just 0.6% in 2019, ending a year in which manufacturing took a battering and the country almost tipped into recession. Have no fear. The new Tesla Gigafactory will solve this issue. Gigafabrik auf deutsch.

Elon Musk remains excommunicado.

Juul Labs has confirmed it will stop selling its fruit-flavored vaping pods in Canada, adopting a similar strategy to the one employed in the U.S. New York State supreme court just ruled that NY can not ban flavored vaping pods. So much for trying to circumvent the political process. Good try by NY Governor, but he will need to try again and follow the rules of making a law this time.

It appears that the Federal prosecutors in the "massive fraud" case against Theranos founder Elizabeth Holmes involve patient harms related to HIV and pregnancy. The time to face the music is coming for Ms. Holmes. Thank goodness that the trial begins in August so as not to interfere with any major Holidays.

Target tumbles after Holiday sales fall short! Breaking News. $TGT down 6% premarket and I will be looking closely at the stock. My daughter and I did some Christmas shopping in Target. Saved $400 on a Nikon camera. Love that store. Might love that stock. Guessing that all retail stocks will be down today because of this Breaking News. Not sure that is fair, but Target seems to be setting the bar.
notes via user DCV.
...
Will the fake meat fad ever die? It might, eventually.
$BYND
, Beyond Meat, Inc. / H1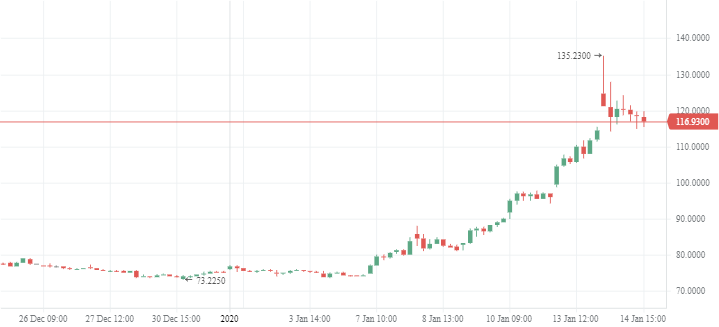 Do not buy $AMD weekly options. Buy $TSLA if the stock rises 1-15% daily.
US gov't wants to weaken Huawei's 5G dominance. This will help $ERIC, $NOK.