Which Cannabis Stock Should You Buy?
The Canadian Senate passed the House (of Commons) version with a large number of amendments, which sends the legislation back to the House for approval. It's a pretty safe bet the House finds a couple amendments lacking, and further modifies the bill, sending it back again to the Senate. Nothing says this came of ping pong can't last awhile before it passes both chambers unchanged and goes to Trudeau for "Royal Acceptance".
It is at THAT point that we will see what the legal landscape looks like for Cannabis sales in Canada, and can begin (emphasis on "BEGIN") to analyze.Aurora and other Canadian players for valuation based on more than just conjecture and speculation.
We won't really have data we can be confident in for at least a year after retail sales begin.

To underscore your recreational market projections, a medical card requires a doctor to proscribe, typically annually, and with an annual cost. Recreational doesn't, and for a significant chunk of medical users there really is no reason to go through that once recreational sales are authorized. There are a few benefits to having the card, one being if you are growing your own (in which case your impact on sales is zip regardless) and another is some jurisdictional protection in areas that only allow medical (both benefits that vary jurisdiction to jurisdiction, from none to a little).
I have a medical card in Washington, with no idea whether that will carry any advantage across the border in Canada. In most US states it allows me to posses, but not purchase, if they allow medical cannabis sales. My understanding is the Washington medical card is much more "liberal" than the Canadian equivalents. There are only a few "Medical" dispensaries left in Washington State, most of the ones that existed prior to adult use authorization failed to "win the lottery" in licenses and had to shut down.

In other words, the "medical cannabis" market all but dies in a "recreational" environment, and a significant (one time) growth in recreational sales post legalization is merely conversion of medical sales.

Last, the legal environment and the market players preparing for it may not match up well - look at California's legalization Jan 1 and what the California stocks have done (or haven't done, rather) year to date.
The skuttlebutt 6 months on is that California will start getting it's act together "later this summer". Market timers take note.

All that said in caution, what we can be sure of is a wild signing party where everyone is invited whenever Trudeau puts pen to paper, and that's what I'm holding for. Whether I'm still holding anything in the sector a week later when the inevitable market consolidation begins depends a lot on how well the particular company matches up to the environment they operate in and I'll pick up those prospects post consolidation.

Notes from contributor @Steeley.
His Disclaimer - I'm holding Aurora as a sizable chunk of my cannabis portfolio, accepting the risks and realities I outline above.
$ACB
, AURORA CANNABIS INC / H1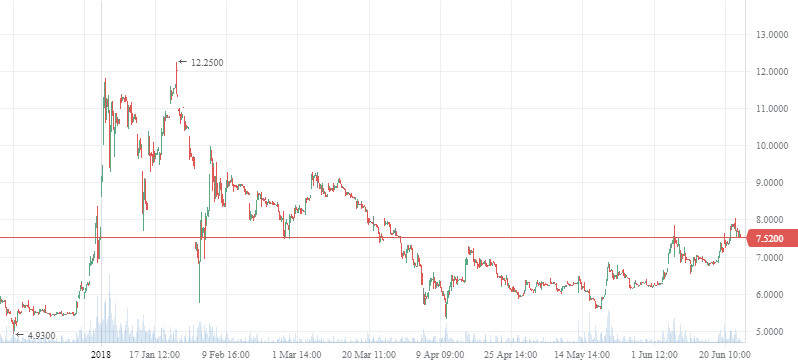 ...is down, still, from the $12.25 peak. A buyout from a beer company would set this as a starting bid. The absence of any bid is of no concern to shareholders. The market size is only now growing, following the legalization of cannabis.