Trade Risk Free and Then Get A Funded Trading Account
Today, traders with the skills and nerves but who lack all the upfront capital should check out Try2BFunded ("T2BF"). The widening daily stock volatility combined with markets at all-time highs created constant trading opportunities.

Before getting capital from T2BF, you need to prove yourself first. By signing up for qualifying Stage 1 and Stage 2, you will start with $30,000 and up to $100,000 in paper (simulated) capital.

Produce a profit of 6% in those two steps and then get to the funded stage.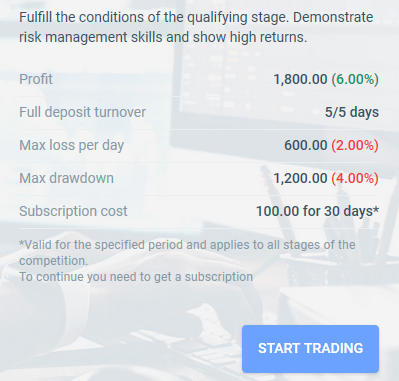 (Source)

The beauty of the first steps is that investors at any level – beginner or expert – may hone in on their strengths. Everyone has a unique trait to perfect and strengthen. Do you have steady nerves? Are you good at picking asymmetric winners faster than anyone else? In any case, what better way to do that than to get practice? That happens before having a live account.
Once you qualify, as so many announced here have, you are set to go! T2BF will give you access to up to $100,000 in funding to trade.
Along the way, T2BF gives you the tools to help you succeed: trading support, trade ideas, multi-market access, low trading fees, and access anywhere. It is a great platform.
Interested in joining try2bfunded? Find out more here.